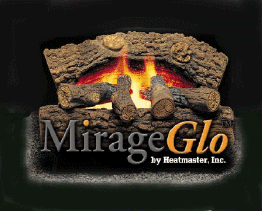 HEATMASTER, Inc. introduces the world's first Cerafome gas log set. Cerafome technology provides a ( non-fiber) ceramic gas log set that creates "The Ultimate In Realism" with a natural wood burning glow.
Finally, a log set that resembles a real wood fire that has been burning for hours without the hassle of constantly feeding it wood. Heatmaster has utilized this new material technology and burner combination to create a new more cost efficient gas log set. Most conventional Vented gas log sets use 50,000 to 90,000 BTU/hr input. The MirageGlo vented-LP unit produces a radiant heat efficiency 3 times greater, per BTU input, when compared to a conventional vented gas log set, while consuming 40% less gas ( only 30,000 BTU/hr)
The radiant heat output of the MirageGlo Cerafome material is phenomenal. The material yields a brilliant glow that emanates heat from the realistic coal bed like a radiant heater. This coal bed resembles a real wood fire that has been burning for hours. The radiant effect creates a heat output that is unrivaled by any other vented gas log set.
The Vent - Free version has the same great radiant performance as well as being an economical and clean burning supplemental heating appliance when the power goes out.
See installation Manuel PDF file
Heatmaster MirageGlo Vent Free Gas Log Specifications

Model
Size
Gas type
Control Type
Btu capacity
Specifications
MGF-MV-20
Vent Free
20"
P&N
Millivolt
N 23 - 34
P 16 - 26

see Manuel