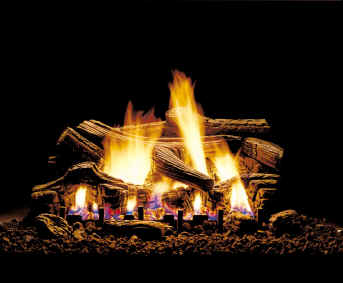 Realistic Flames, Unbelievable Comfort Empire Comfort Systems makes it easy to add warmth, beauty and comfort to your fire place with their vent - Free gas logs. Their patent - pending Systems and lifelike logs are designed to create a more natural and realistic effect. The System's burner incorporates a glaze material that produces tall dancing flames that leap from a bed of glowing embers. Offering durability and flame appeal for both natural and propane applications, you'll find these. vent - free logs simply unbelievable
The Slope Glaze Burner System, the next generation in comfort, features a charred oak log set and the tallest most lively flames available.
The VFSR models are millivolt powered allowing them to be controlled ( on - off ) by a switch, thermostat or hand held remote control.
The VFSV models have incorporated a remote control system , included, that will not only stop and start the flame with the hand held remote control , but will also turn the flame up and down.
(click image above for High Resolution View)
Empire Slope Glaze Burner Vent Free Gas Log Specifications

Model
Size
Gas type
Control Type
Btu capacity
Specifications
VF18DF
VF24DF
VF30DF
18"
24"
30"
P&N
Manual Millivolt
N 20 - 34
P 24 - 34